Crafted for Safety & Beauty
Smooth edges & domed top – Fully insulated –  Recycled plastic & strong steel core  – Inline post 
Plastic Forests' Equine PLUS Posts have been specifically designed for the exacting needs of horses and their owners. The posts' rounded edges, curved dome top and retained flexibility are crafted with safety in mind, with no sharp edges to injure horses or riders. Made from 100% recycled plastic with a fully encapsulated steel core, they combine the strength of steel with the longevity of plastic. The PLUS Posts' smooth finish and curved design will provide a beautiful and maintenance free fence for years to come.
Our solid Equine PLUS Posts are fully insulated for easy electrification of wires, tapes or vinyl/polymer rails, eliminating the need for untidy insulators. No more purchasing, measuring and installing insulators or locating short circuits, saving both time and money. Furthermore, our entire fence post range comprising PLUS Posts, square pickets and droppers come complete with matching pre-drilled holes (to your choice) for faster installation, without bulky brackets.
Made with UV protected plastic, our posts will outlast timber posts many times over and provide superior outdoor performance in all climates and soil conditions.
Equine PLUS Posts are ideal for horse studs, hobby farms, training facilities or equestrian centres providing a strong, chemical free and long-lasting fence post that looks fantastic. Made in Australia from 100% recycled plastic, including farm plastics such as silage wrap, they're great for the environment and the circular economy.
Equine PLUS Posts: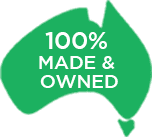 Safe for horses – with rounded edges and a curved dome top
Beautiful, smooth finish
Made from durable 100% recycled plastic – will not rot, split, rust or splinter
Solid & strong – with a fully encapsulated steel core
Fully insulated for easy electrification of wires, tapes or vinyl/polymer rails without extra insulators
Retained flexibility to protect horses from injury
Pre-drilled holes for fast & easy wire installation (optional)
UV stabilised for long life
Maintenance free – never need painting
Time and money saving – no more purchasing, measuring and screwing in brackets, installing insulators or locating short circuits
Sustainable – made in Australia from recycled plastics, including farm plastics
Termite proof and bacteria resistant
Resistant to chewing by horses & CCA chemical free – not made of timber
Waterproof – ideal for swampy, flood-prone or wet areas
Suitable for acidic, alkaline and saline soils
Highly resistant to impact, shock, breakage and abrasion
Easy to work with – can be nailed, screwed, drilled or sawed
Smart  appearance, with consistent black colour and shape
Affordable now, with excellent lifetime value
10-year warranty
A safe, beautiful asset for years to come
Specifications:
Dimensions (nom): 110mm (w) x 110mm (d)
14 x 7mm holes
Post lengths: 1800mm (10.6kg); 2100mm (12.4kg);  2250mm (13.3kg)
Colour: Black
Composition: 85% recycled plastic, 10% steel, 5% processing aids and UV stabiliser
Australian-made steel core
Options:
Pre-drilled 10mm holes for wire or attaching wire mesh
Please note that we do not manufacture plastic fence rails
Installation:
Simple, quiet installation with a standard tractor-mounted post driver (eg. Munro). For soft ground, a portable petrol or pneumatic post driver with an adapter plate or the front end of a bucket loader may be used. In hard or rocky ground, posts require a pre-drilled hole of 90mm (approx.)
Fast installation with pre-drilled holes for wire (optional)
Easy to work with – can be nailed (using a twist shank nail), screwed, drilled or sawed (with an appropriate blade for cutting steel core)
May also be used with standard hardware/brackets (eg. Davo's Fencing Clip) or timber rail, if desired
It is recommended that Equine PLUS Posts be installed every 3m to 5m, depending on the type of fencing, soil and environmental conditions
The Equine PLUS Post is designed as an in-line post and must not be used as a strainer post, fence rail or gate post
To prevent bowing of posts in the sun, do not leave unstrapped posts lying on the ground.
Equine PLUS Posts & Square Pickets Pricing Calculator (inc GST) for under 500 posts and freight quotation request
Where are our posts located?
With the support of the Coles Nurture Fund, Plastic Forests is committed to helping Australian farmers get back to business with our innovative  Equine PLUS Post. As a rural business, we share with farmers a love of the land and a desire to take care of our natural environment for future generations. We are proud that our Equine PLUS Post is made with farm plastics, providing a useful, sustainable 'home' for this resource, other than burning or burying it.