Plastic Forests plastic mineral composite Orchard Stakes are tough, low maintenance and long lasting. They are manufactured from 100% recycled plastic plus a mineral blend for increased strength and will never rot, rust or swell. Our solid Orchard Stakes are waterproof, UV stabilised and termite proof so you can re-use them again and again. Orchard Stakes are ideal for irrigation applications and marking the location of rows in an orchard.
"We're using the stakes to help us secure our irrigation drip tube and ensure that it remains firmly fixed in the one spot. Previously with the contraction and expansion of the tube, in hot and cold conditions, it was prone to moving all over the place and into the pathway of orchard machinery, such as tractors and slashers. Now we have far less drip tube to repair, saving us time and money. The extra length of Plastic Forests 900mm Orchard Stakes also allows us to attach a cattle tag (row number), providing us a quick and simple way of determining our exact location in the orchard."

Martin Sebire – Wandin Valley Farms/Diamond Australian Cherries
Available in lengths up to 1800mm, Orchard Stakes are easy to work with and can be screwed, drilled or sawed like timber. Plus they're made in Australia from 100% recycled plastics, providing a sustainable solution to the plastic problem.
Plastic Forests Orchard Stakes are: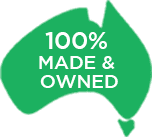 Durable – will not corrode, rot, split, swell or rust
Composed of a polymer mineral composite for increased strength
UV stabilised for long outdoor life
Waterproof – suitable for acidic, alkaline, and saline soils
Termite proof and impact, vermin, and mould resistant
Ideal for irrigation applications, orchard row markers and securing drip tube to reduce damage by machinery
Low maintenance and repair costs – never need painting
Resistant to most chemicals and oils
Easy to work with – can be screwed, drilled, or sawed like timber
Economical, with excellent lifetime value
Made in Australia from 100% recycled post-consumer soft plastics, in accordance with AS/NZS ISO 14021
Recyclable at end of life
Specifications:
Solid square 38mm (w) x 38mm (d); any length up to 1800mm
Colour: Black
Options:
Customised hole spacings and hole sizes if required
Interested?
To find out more about our Orchard Stakes please complete the form below:
Orchard Stakes EOI and Quotation Request