Our solid, 38mm x 38mm recycled plastic Tomato Stakes are sturdy, splinter-free and long lasting. They come complete with pre-drilled holes for easily feeding through twine to support your growing tomato plants.  Our Tomato Stakes are waterproof, termite-proof , UV stabilised and will never rot, rust or corrode so you can re-use them again and again. Plus they're made in Australia from 100% recycled plastics, providing a sustainable solution to the plastic problem.
Tomato Stakes come in two versatile lengths which also makes them ideal for staking larger plants or creating mesh tree guards around newly planted trees (so possums, roos & wombats can't nibble).
Green Mongrel Tomato Stakes are: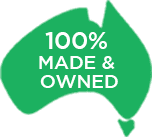 Sturdy and strong – 38mm x 38mm
Complete with pre-drilled holes – fast and easy to feed through twine
Termite proof and bacteria resistant
UV stabilised for long outdoor life
Waterproof – will not corrode, rot or rust in acidic, alkaline or saline soils
Quick to install with a drivable point
Easy to work with – can be screwed, drilled or sawed like timber
Economical, with excellent lifetime value
Made from 100% recycled plastics
Not made with PVC, chemical drums or BPA
Installation:
Fast installation with a sturdy hammer or a manual/petrol post driver
Please note that you need to install approximately 500-600mm into the ground. High tension will cause the end posts to lean inward if the cord or string is overtightened.
Options:
Customised lengths, hole spacings and hole sizes – 5mm – 7mm – 10mm – minimum orders apply
Specifications:
Square 38mm (w) x 38mm (d) in two standard lengths:
1650mm – 210 tomato stakes to a pack – 501kg shipping weight
1800mm – 180 tomato stakes to a pack – 470kg shipping weight
Standard number of pre-drilled holes: 14 x 7mm
Colour: Black
NOTE: To prevent bowing of stakes in the sun, do not leave unstrapped stakes lying on the ground.
Tomato Stakes are only available in Australia at this stage. 
Transport Options – Minimum 4 lengths to ship – 1: Pick up from our factory located at North Albury NSW 2640. 2: Use your own freight contractor – just let us know their details and our despatch team will liaise with them. 3: Our customer service team can provide you with a shipping quotation after placing the order. This ensures we give you the best shipping rate to rural areas. If you do not wish to proceed after receiving the shipping quotation, you may cancel the order and promptly obtain a full refund.