Poly Sheet is a heavy duty, yet flexible sheeting that offers protection against livestock bruising and acts as a visual barrier between stables, pens or stockyards, making animals easier to handle.
Poly Sheet is made in Australia from over 90% recycled Low-Density Polyethylene (LDPE) plastic which is more resistant to brittleness and Environmental Stress Cracking than High-Density Polyethylene (HDPE) sheeting. This lightweight sheeting is UV stabilised for long life – it will never rot, rust, splinter, swell or crack. It is available in a range of colours, roll lengths and 3 thicknesses (1.3mm, 3mm and 6mm).
Create a 'cool yard' with our light grey Poly Sheet 3mm – made from recycled silage wrap for a sustainable, circular solution for this problematic farm plastic. Black rubber mining belts dramatically increase the temperature in pens, creating heat stress for both livestock and farmers operating in confined areas.
Poly Sheet is suitable for use in a wide range of applications including lining compost bins, stockyards, stables, cattle crush, fencing, pens, retaining walls and feed troughs.
Poly Sheet is: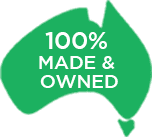 • Tough and durable – will not rot, rust, swell, splinter or crack
• Lightweight, flexible and waterproof
•  UV stabilised for longevity in harsh Australian conditions
• Smooth on both sides – fungus, termite and bacteria resistant
• Cost effective
• Made from over 90+% LDPE blended recycled plastic for improved resistance to Environmental Stress Cracking compared with HDPE.
".. lower density polymers offer better resistance to ESC (Enviromental Stress Cracking)" than HDPE.  See link to paper below.
• Australian made from 100% recycled plastic, including farm soft plastics
• Easy to use and affix to fencing panels with Tek screws, timber screws or cable ties.
• Chemically inert
• Recyclable
Poly Sheet 1.3mm Thick Specifications:
600mm x 10m x 1.3mm  (Black)
600mm x 30m x 1.3mm (Black)
Poly Sheet 3mm Thick Specifications:
300mm x 12m x 3mm  (Black) "Garden edging and root runner stopper all in 1".
600mm x 12m x 3mm (Stocked: Black.  Custom order: Silage Grey or Brunswick Green)
Poly Sheet 5mm Thick Specifications:
300mm x 15m x 5mm  (Black)
25kg per roll
Poly Sheet 6mm Thick Specifications:
600mm x various lengths up to 155lm 2nds with lamination on one side & custom new lengths up to 155lm x 6mm (Black & Grey)
Pricing from $13.00 PLM + GST ex works – 2nds with laminate 1 side
Approx 3.7kg plm
Fill in contact form for quoting
If you have any further questions about Poly Sheet please
CONTACT US HERE.
International shipping is now available!   It is expensive to send the rolls (the 30m = 98 foot @ 24kg or 52 pounds) via air-freight, Australia is a long way from most places! We have had a lot of interest from the USA and Canada and we will be looking for a local distributor if there is enough interest. We will then be able to ship container loads which will make the product more affordable, so please register your interest  HERE.
The pricing in the drop down box excludes any delivery fees, which are added according to your location.   All pricing is in Australian Dollars (which is approx 25% less in value than the USD).