Our plastic mineral composite 38mm x 38mm Square Pickets are sturdy, drivable and long lasting.  Fully insulated, rust and termite-free, these solid Square Pickets are suitable for a wide range of fencing and landscaping applications, similar to steel star pickets (also known as Y-posts or T-posts).   Made in Australia from 100% recycled plastic and a mineral blend for increased strength, they offer a sustainable solution to the plastic problem.
Simply drive the Square Pickets into the ground to support many types of wire, silt fence, barrier mesh or wire mesh. Square Pickets are also ideal for creating mesh tree guards around newly planted trees (so sheep, roos & wombats can't nibble) and have been used in Blaze Aid's 'Trillion Paddock Trees' initiative.
For a stylish and maintenance-free black fence, our solid Square Pickets may be combined with our larger, steel-reinforced PLUS Posts or plastic Droppers for a range of perimeter fencing solutions. They are perfect for swampy, acidic or saline soils as they will not rot, rust or corrode.
Furthermore, our entire fence post range comprising PLUS Posts, Square Pickets and Droppers come complete with matching pre-drilled holes and require NO additional insulators. Not only will our posts outlast timber posts many times over, the time-wasting search for electrical short circuits is eliminated forever, as the entire plastic post is the isolator!
Plastic Forests Square Pickets are: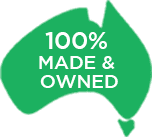 Durable – will not corrode, rot or rust in acidic, alkaline or saline soils
Composed of a polymer mineral composite for increased strength
Termite proof and bacteria resistant
UV stabilised for long outdoor life
Fully insulated for easy electrification of any or all wires – no insulators required
Quick to install with a manual or petrol post driver, and a drivable point
Pre-drilled holes for easy installation with wire or mesh
Low maintenance and repair costs – never need painting
Waterproof – ideal for swampy, coastal, wet or flood-prone areas
Easy to work with – can be screwed, drilled or sawed like timber
Perfect to combine with our larger steel-reinforced PLUS Posts (110mm x 110mm) or Droppers for a smart, uniform fence with no untidy clips or need for insulators
Economical, with excellent lifetime value
Sustainable – manufactured using recycled post-consumer soft plastics, in accordance with AS/NZS ISO 14021
Installation:
Fast installation with a manual or petrol post driver
For hard or rocky soils you can use a 450mm-600mm x 25mm masonry drill bit on a cordless electric drill to make a clear pilot hole
Note: Square Pickets are designed as a line post and must not be used as a strainer or end post.
Specifications:
Square 38mm (w) x 38mm (d) in two standard lengths:

1650mm – 210 square pickets to a pack – 491kg shipping weight
1800mm – 210 square pickets to a pack – 534kg shipping weight

Pre-drilled holes: 14 x 7mm holes
Colour: Black
Options:
Pre-drilled top slot for barbed wire or plain wire
Customised lengths, hole spacings and hole size – 5mm – 7mm – 10mm
Storage & Handling Warning:   Unstrapped pickets lying flat in the sun may bow. Keep the pack strapped until using and re-strap unused pickets immediately with ratchet straps or similar. Store pickets inside or out of the sun, if possible. Cover if left outdoors.
Where are our posts located?
Square Pickets are only for sale in Australia at this stage. 
Transport Options -"Minimum 4 lengths to ship" – SHIPPING HAS TO BE QUOTED MANUALLY FOR THIS PRODUCT
1: Pick up from our factory located at North Albury NSW 2640. 2: Use your own freight contractor – please let us know their details and our despatch team will liaise with them. 3: Our customer service team can provide you with a shipping quotation after placing the order. This ensures we give you the best shipping rate to rural areas. If you do not wish to proceed after receiving the shipping quotation, you may cancel the order and promptly obtain a full refund.