GreenMongrel Path Edging Pegs are ideal for providing additional support for our Path Edging and Garden Edging as well as a range of outdoor applications. They are solid, long lasting, termite-free and will never rot, crack or splinter. These extra heavy duty pegs are made in Australian from 100% recycled plastic, so they're great for our environment and the circular economy.
GreenMongrel Path Edging is suitable for many edging applications including along paths, driveways, playgrounds, gardens, lawns and tree surrounds.
GreenMongrel Path Edging Pegs are: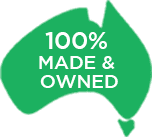 Solid, strong and durable – long lifespan
Splinter free! Will not rot, crack, split or rust
Waterproof and termite proof
UV stabilised for long life and virtually maintenance free
Extra heavy duty
High impact resistance
Non-toxic and chemical free – unlike CCA treated timber
Made in Australia from 100% recycled plastic
Ideal for seaside, rural and urban environments
Sustainable and recyclable at end of life
Specifications (each):
300mm (h) x 60mm (w) x 30mm (d) (nominal). Weight: 400 grams (approx).
Colour: Black
Available individually or in packs of 6,10,20,30 or 50 Pegs.
Please click on the links to see our Green Mongrel range of
Path Edging
,
Garden Edging
and
Garden Edging Pegs
.
If you have any further questions about our Green Mongrel Edging Pegs please
CONTACT US HERE.
The pricing in the drop down box excludes any delivery fees, which are added according to your location.