Our heavy-duty recycled plastic Garden Edging Pegs are designed to complement and support GreenMongrel™ Garden Edging.
Our Garden Edging and Pegs allow a variety of straight or curved designs to be produced, creating a crisp, clean look by highlighting the features in your garden. It also prevents grass from invading garden beds and keeps soil, pebbles and mulch inside garden borders for a neat appearance. Ideal for edging lawns, paths, borders, trees and garden beds.
GreenMongrel™ Garden Edging Pegs are: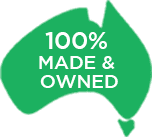 Heavy-duty, solid and tough
100% waterproof and UV stabilized
Immune to termites, mould, rotting, splinters or cracks
High impact resistance
Made from 100% recycled plastic, rescued from landfill
100% recyclable at the end of life
Manufactured in rural Australia
Easy to install
Specifications:

SOLID PLASTIC 2.4 times the weight of other pegs in hardware stores
300mm(h) x 30mm(w) x 25mm(d)
Weight: 180 grams (approx.)      Colour: Black
Available individually or in packs of 6/10/20/25/30/50 pegs
GreenMongrel™ Garden Edging Pegs are ideal for use with our garden edging to provide additional support, if required. Pegs are easy to install by hammering into the ground on one or both sides of the garden edging or may be fixed to the garden edging with 16mm self-tapping black oxide screws (available separately – see link below). Depending on the intended use, design and soil conditions, one peg may be required every metre. Please view photos and Installation Sheet below for further information.
NOTE: All plastic will expand and contract with changes in temperature, approximately 1% of the cut length. If no allowance is made for this during installation, the garden edging may buckle or lift out of the ground. For example, a 5m length will expand/contract approximately 50mm, so overlap the edging 25mm at each end to allow the ends to slide past each other. Please see Installation Instructions for further details.
TIPS RE PEGS: More pegs are required to install garden edging in soft, sandy soils than in hard, clay soils. If a large proportion of the garden edging is buried in the ground, fewer pegs are required. Our 5mm thick garden edging requires far fewer pegs than the 3mm garden edging. With 5mm garden edging, if the soil is hard and over 50% of the edging is buried, very few pegs are needed, if at all.
Please click on the links to see our Green Mongrel range of Garden Beds, Heavy Duty Garden Edging Kits , Black Oxide Screws and  Garden Edging.
If you have any questions about our Garden Edging Pegs please CONTACT US HERE.
The pricing in the drop down box excludes any delivery fees, which are added according to your location. (Garden Edging not included).