Plastic Forests Air Con Mounting Blocks are designed for ground mounting air conditioner compressors on a durable, sturdy base for quieter operation. Made from solid, 100% recycled plastic, our air conditioner Mounting Blocks are not only great for the environment, but are also strong and virtually indestructible.
Perfect for most common split systems, they provide maximum airflow and water drainage to aid the longevity of the compressor unit.
Plastic Forests Air Con Mounting Blocks are:
Extremely strong with the highest load rating in the industry – 5 to 13 tonnes per mounting block
Durable and solid – will not crack, collapse, chip or rust
10-year warranty *
Vibration and noise reducing
Weatherproof and UV stabilised
Impact-resistant and lightweight compared with concrete pads
Maintenance-free, with no hidey holes for spiders
Made in Australia from 100% recycled plastics, including plastics and takeaway coffee cups from the  recycling program
Quick and simple to install, with no assembly required. May be fixed to the ground if desired.
Ideal for installing on level or uneven ground and flat deck roofs
Recyclable at end of life, unlike virgin PVC
Our Mounting Blocks are so versatile. They may also be used for ground mounting generators, pool heaters, rainwater tanks, garden composters etc
Dimensions
90mm (w) x 90mm (h)
Standard lengths: 380mm, 450mm, 600mm and 1000mm
Colour: black
Download SPECIFICATIONS for load ratings and weights
Fix unit to the centre of each mounting block with zinc-plated or stainless steel chipboard screws & washers (not included)
* Warranty limited to product replacement, with proof of purchase.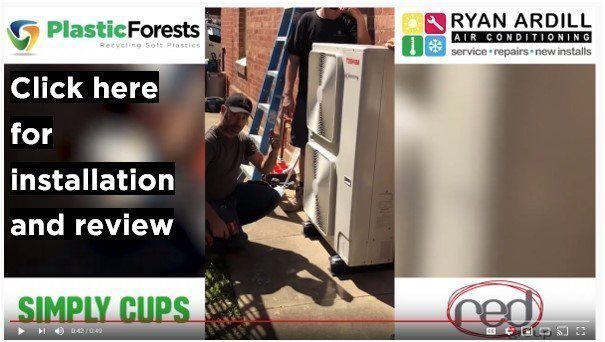 Licenced air conditioning installers seeking trade discount BULK pricing please CONTACT US HERE
If you have any further questions about our Air Con Mounting Blocks please CONTACT US HERE
The RRP pricing in the drop-down box excludes any delivery fees, which are added according to your location.