Plastic Forests' unique plastic and rubber composite I-90 Dunnage delivers the compressive strength and durability of plastic with the grip of rubber, making it a superior long-lasting, low-trip-cost alternative to wood. Its unique, engineered shape delivers a strong, lightweight and easy-to-handle product with impressive, independently tested co-efficient of friction and compressive strength results. Plus it's made in Australia from 100% recycled plastic and 100% recycled rubber from vehicle tyres, so it's an environmentally friendly solution for the mountains of waste generated each year.
Plastic Forests Dunnage is suitable for a wide range of transport and storage applications, such as laydown areas and precast concrete yards, both in Australia and overseas. Sometimes called gluts, blocks or pack spacers, our synthetic dunnage provides clearance for forklift tines to lift goods safely and provides a stable base for goods. It is well suited for use in sectors such as logistics, construction, oil & gas, industry, marine, aviation, quarantine and agriculture. As our dunnage is wood-free, it complies with ISPM 15 and is suitable for export applications.
In Australia each year, millions of tyres and 800,000+ tonnes of soft plastics come to the end of their useful life and are typically disposed of in landfill. Plastic Forests extends that life, blending rubber and plastic together to create a high performance, 100% recycled dunnage product with exceptional environmental benefits and circularity. Developed in conjunction with Tyre Stewardship Australia, the product's many advantages over timber dunnage result in less downtime, fewer replacement costs and extended dunnage life.
Plastic and Rubber Composite I-90 Dunnage is:
Durable, strong and consistent
Affordable: low trip cost. Buy it once for long-term use
Splinter free! Will not rot, crack or split (with normal operating use)
Termite and insect-proof; does not contain wood
Independently, NATA laboratory tested for coefficient of friction and compressive strength
Micro sawtooth texture on top and bottom surfaces, with exposed rubber particles, for increased surface friction and grip
Hygienic and easily cleaned – no mould or dust issues
Does not stain surfaces of stored products – no tannins
Waterproof and impervious to fluids including fuels, oils and most common chemicals
Made in Australia from 100% recycled plastic and recycled rubber
Non-toxic and CCA chemical-free, unlike treated timber
Suitable for export – complies with International Standards for Phytosanitary Measures No. 15
Shock-absorbing and non-conductive
Manufactured using recycled post-consumer soft plastics, in accordance with AS/NZS ISO 14021
Recyclable at end of life
Designed for single-layer use only – Non stackable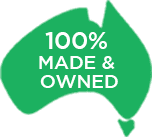 The unique I shape provides:
Engineered strength
Easy to grip, move and handle
Consistency in size, weight and strength
Lighter weight than most plastic and some timber dunnage, for lower freight costs
Dunnage Options:
Embossed corporate branding for easy identification and marketing
Custom lengths and width options achieved by bolting profiles together
Custom colours
Class 1 reflective tape for high visibilty
Dunnage I-90 sizes:
Standard nominal dimensions: 90mm (w) x 90mm (h)
Available in a range of lengths up to 1200mm (see Specifications below)
Service Interval:
The I-90 Plastic Rubber Composite Dunnage has a design life of many years. However, a service interval of up to 2 years applies from the date of manufacture before factory inspection and possible recertification for another 2 years is required. The Service Due Date stamped on each item acts as a guide only, as the functional life is dependent on factors outside the control of the manufacturer such as usage, storage, environmental and operational conditions. See 'Specifications' below for further details.
"I can never go back to using timber dunnage. I am telling everyone about your product. It is time saving, efficient, safe, lightweight & durable – all in one wonderful product."
Professor Maurice Guerrieri – Structural Fire Engineering and Concrete Spalling Specialist – Victoria University
Please complete the form below for a quotation or further information regarding I-90 Dunnage.
(*required)
Dunnage must be always used in a capital I orientation and be placed onto a stable, suitable, non-slip floor or surface before use ● For use on flat surfaces only. Ensure all surfaces are free of loose materials such as dirt, oils etc. ● Ensure the load is spread over the whole surface area of the dunnage ● Not to be used for point to point loading ● Ensure that the surface can carry the intended load ● Ensure that there is no visible damage to the dunnage and that the surface has not lost is rough, ridged appearance. If the dunnage is damaged or worn please return to Plastic Forests for recertification, re-surfacing or recycling at end of life ● Always perform your own risk assessment before using this product ● Always know the weight being supported ● Never exceed the maximum loading ● Not to be used for steel pipes or smooth surfaced steel without a full risk assessment  ● Under no circumstances does the maximum loading mentioned above take into consideration point loading or uneven weight distribution of the supported load.
** NOT TO BE USED FOR SUPPORTING MOBILE PLANT/ EQUIPMENT /MACHINERY **  NON STACKABLE  **