Green Mongrel raised Veggie Beds make it easy to grow your own vegetables and herbs, for the freshest seasonal produce, straight to your table.
Our Veggie Beds are weatherproof, sturdy, maintenance-free and virtually indestructible. They are ideal for growing vegetables, as they allow the soil quality to be completely controlled, provide warmer soil conditions for young plants and provide excellent drainage. The sides of the raised vegetable bed also help retain valuable soil and deter pests like snails and slugs.
Green Mongrel Veggie Beds come in heights up to 72.5cm, providing ideal working heights for gardeners, particularly those with back or mobility issues. They are simple to assemble in just a few minutes (without power tools), plus they're made in Australia from 100% recycled plastic, so they're great for the environment.
So start growing delicious, money-saving vegetables today with Green Mongrel Veggie Beds.
GreenMongrel Veggie Beds are: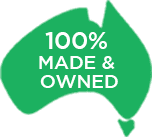 Made from durable recycled plastic – will never rust, split or rot
UV stabilised and weatherproof for long life
Quick and easy to assemble, without power tools (screws included)
Sturdy and lightweight
Maintenance-free and virtually indestructible
Easy to empty, store and set up again when needed
Not chemically treated (like CCA timber)
Great value, with a 5-year warranty
Australian made and owned
Available in a range of sizes and ideal working heights for gardeners (up to 725mm)
Recyclable at end of life
Made in Australia from 100% recycled post-consumer soft plastics, in accordance with AS/NZS ISO 14021. As a recycled product, there may be surface or colour variation from batch to batch.
GreenMongrel  Veggie Bed – Circle – Specifications: 
| | | | | |
| --- | --- | --- | --- | --- |
| Circle diameter | 60cm | 90cm | 125cm | 155cm |
| Height (cm) | 20/ 30/ 40/ 60/72.5 | 20/ 30/ 40/ 60/72.5 | 20/ 30/ 40/ 60/72.5 | 20/ 30/ 40/ 60/72.5 |
| Thickness | 5mm | 5mm | 5mm | 5mm |
| Plastic Strip Length | 2m | 3m | 4m | 5m |
725mm high Veggie Beds now available – the perfect height for gardening!
Colour: Black, Grey Mist & Dark Green
3, 4, 5, 8 or 10 blacktop screws included (depending upon Veggie bed height selected)
Note: Diameter is approximate and may be reduced during assembly. Veggie Bed is designed for outdoor use so a base panel is not provided. Plants are not included.

For required soil volumes, please refer to Assembly Instructions below.
There are many helpful articles and websites which suggest which vegetables to plant throughout the year and provide tips for growing them,  such as  Gardenate and the abc website
Creating your own raised Veggie Bed couldn't be easier. Our Veggie Beds not only look great but will stand the test of time!
If you have any further questions about our Green Mongrel Veggie Beds please CONTACT US HERE.
International shipping is now available!   It is expensive to send the larger Veggie beds via air-freight and Australia is a long way from most places! We have had a lot of interest from the USA and Canada and we will be looking for a local distributor if there is enough interest. We will then be able to ship container loads which will make the Veggie Beds more affordable, so please register your interest  HERE.
The pricing in the drop down box excludes any delivery fees, which are added according to your location.  Black and Grey Mist are the same price.  All pricing is in Australian Dollars ( approx 25% less than USD).