Create a unique, heart-shaped garden bed, perfect for growing your own vegetables, flowers or herbs.
GreenMongrel Garden Beds are made from 100% recycled plastic so are weatherproof, sturdy, maintenance-free and virtually indestructible. Simple to install in just a few minutes (without power tools!) so you can start growing your own plants sooner.
Raised garden beds provide great drainage, help prevent soil compaction and allow optimal soil conditions to be established. The sides of the raised garden bed also help retain valuable soil and deter pests like snails and slugs, whilst providing an ideal working height for gardeners.
GreenMongrel Garden Beds are available in a range of convenient sizes and shapes to suit your space. Try combining different shapes, sizes and depths to create a unique, beautiful and practical garden or veggie patch.
So start creating your own garden bed 'heart' today!
GreenMongrel Garden Beds are: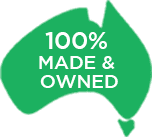 Made from durable recycled plastic – will never rust, split or rot
Quick and easy to assemble – no power tools!
Sturdy with 5mm thick sides
Lightweight
Weatherproof and UV stabilised for long life
Maintenance-free and virtually indestructible
Easy to empty, store and set up again when needed
Not chemically treated (like CCA timber)
Great value
Australian made and owned, with a 5-year warranty
Available in a range of versatile sizes and shapes
Made from eco-friendly, 100% recycled plastic
Recyclable at end of life
GreenMongrel Garden Bed – Heart – Specifications: 
| | | | | |
| --- | --- | --- | --- | --- |
| Heart dimensions (cm) | 125L x 110W | 190L x 160W | 270L x 200W | 330L x 230W |
| Height (cm) | 20/30 /40/60 | 20/30/40/60 |   20/30/40/60 |   20/30/40/60 |
| Thickness (mm) | 5mm | 5mm | 5mm | 5mm |
| Plastic Strip Length | 2m x 2 strips | 3m x 2 strips | 4m x 2 strips | 5m x 2 strips |
Colour: Black or Grey Mist
Black top screws included (12 screws for 20/30cm, 16 screws for 40cm and 24 screws for 60cm height)
Note: Dimensions are approximate and may be varied during assembly. Garden Bed is designed for outdoor use so a base is not provided. Plants are not included.
Creating your own raised Garden Bed couldn't be easier. Our Garden Beds not only look great but are easy to assemble without power tools!
If you have any further questions about our Green Mongrel Garden Beds please CONTACT US HERE.
The pricing in the drop down box excludes any delivery fees, which are added according to your location.